References page 2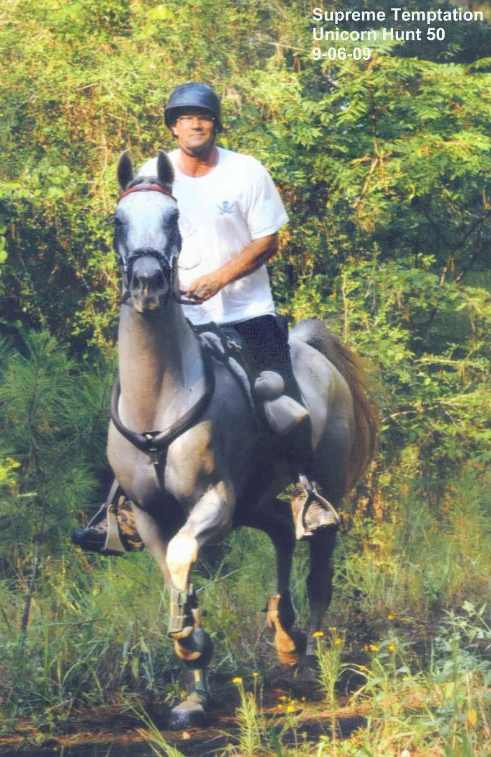 Supreme Temptation: Coming 8 yr old 16h 1/2 Arabian 1/2 Saddlebred. His sire, A Temptation, is pure Polish, and his dam is Dancin At The Ritz. This horse has fabulous recoveries and is absolutely pure fun to ride! He loves people. "Baluga" as we call him (after the white whale) is extremely gentle and not a spook on trail. He has done several 50s, including receiving high vet score, and always 100% sound, but his lifelong partner is one who wants to do limited distance with a great big fun horse! Breeders Sweepstakes. Baluga will be doing a 50 at the open ride at the US National Championship on Tuesday Oct 27th. Supreme Temptation just won the open 50 in 5 hours and got Best Condition AND high vet score! He has won two high vet scores in 4 rides! He also has outstanding talent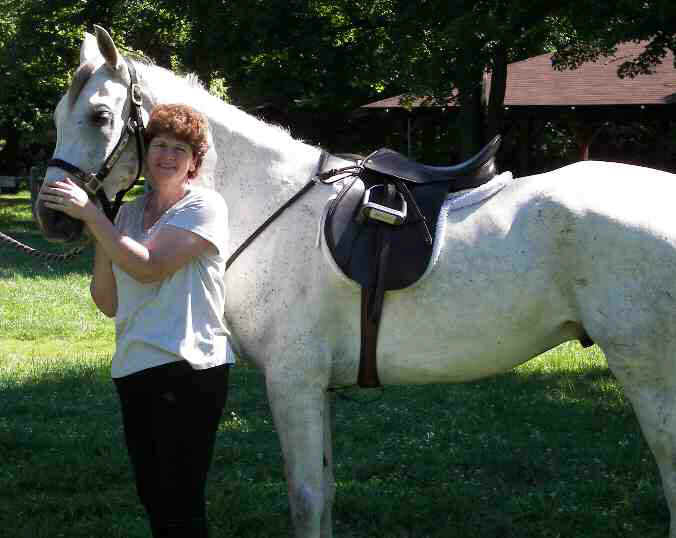 for eventing! Supreme Temptation has found his perfect match with Marsha Greenway of Ohio! We are very sorry to hear Supreme Temptation passed away from PHF. I hope you find another to take his place in your heart Marsha.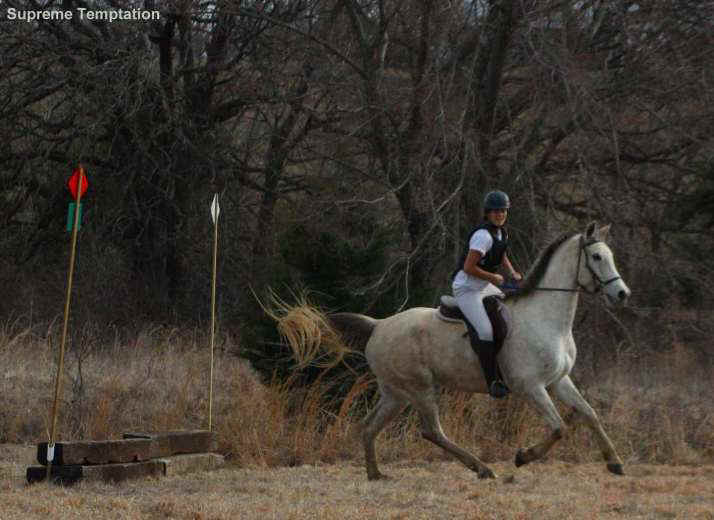 EVERY LITTLE KISS: 6 year old chestnut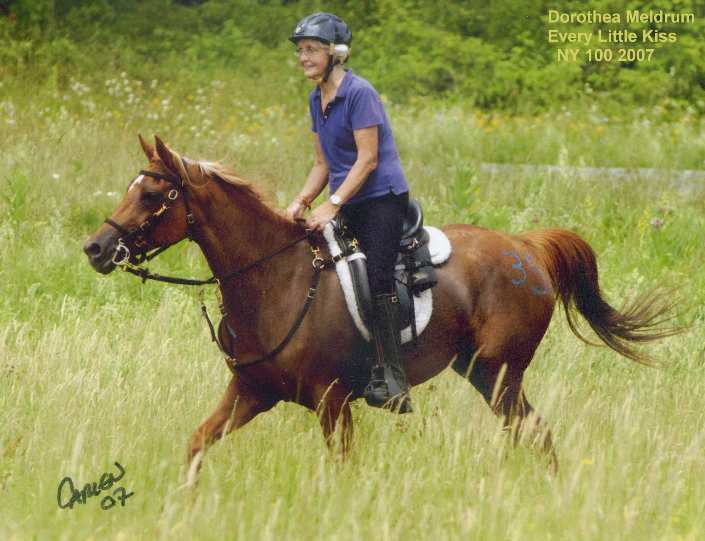 mare. 15+h, short back. Very sweet, kind mare. She just finished a hot, humid two day ride in Texas in excellent condition. Kisses is brave, has a super fast walk, and is very sensible. She loves to go down the trail, and will be excellent for a FW or LW who rides alone a lot. She will make a great 100 miler and she does not mind riding by herself.
Kisses has just found an excellent home with Dorothea Meldrum in New York! feel free to e-mail her and ask her about our horses!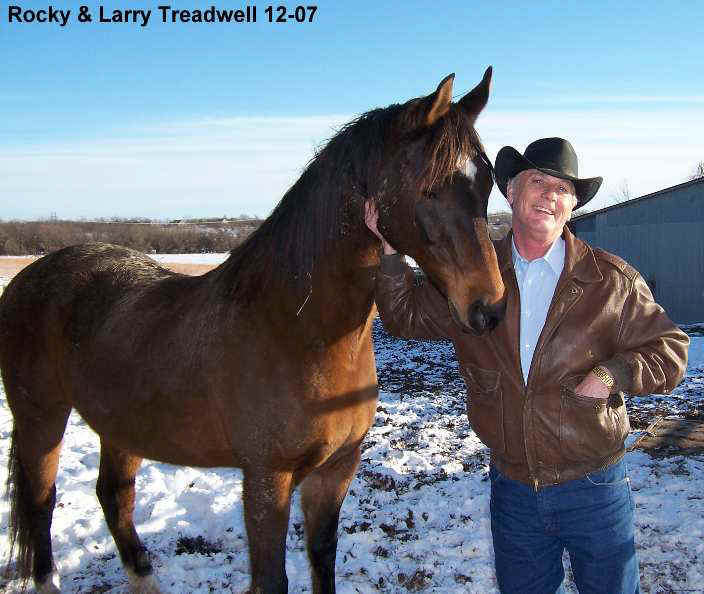 Quantum Leap MMA: 12 year old NSH. This gelding is a huge 15.3. He is Breeders Sweepstakes and he is a SON of Promotion!! "Rocky" is everyone's favorite to ride. He is absolutely FUN. Very surefooted, and super smooth and a wonderful big walk. Rocky is currently doing 50 mile rides, but he would make an excellent dressage horse as well. Sitting his trot is no problem at all! He was a lesson horse for years and he is very tolerant of all types of riders, but he loves nothing better than to go and go on trail! It is so wonderful to just go and not have to worry about shying, tripping, bolting, etc! If you want a horse that is completely a joy to ride and a best friend to enjoy the trails, he is for you! He is also a horse any of your family can ride as well. Look at this record! Rocky placed 1st featherweight at Cougar Prowl Mar 12, 19 out of 93 at TX Bluebonnet April 2nd at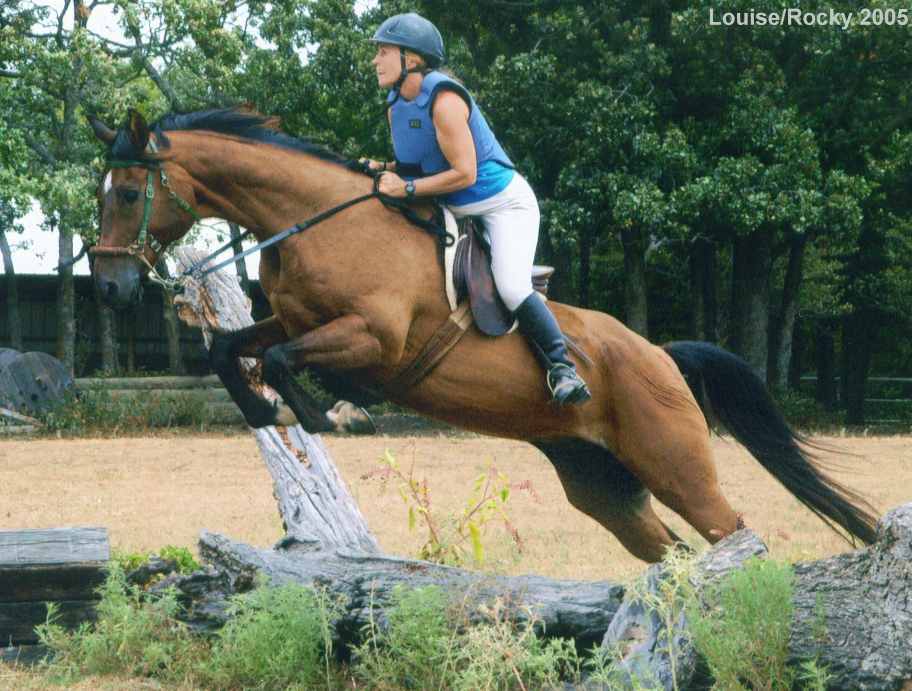 his "jog trot", and 1st featherweight again (5th place) at Coontrail Caper May 1st! And he just WON the L & S ride June 11th!! Rocky is now owned by Larry Treadwell in Topeka KS. Do not hesitate to write Larry and Annette about Firedance Farms Horses! a.treadwell@att.net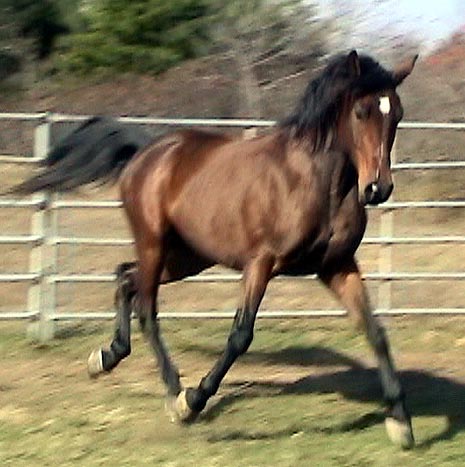 RM Razonn Jamie: 7 year old 15.2 h bay gelding. This horse is so good, I hate to put him on the salepage! He is HUGE, and barely fits in a size 2 shoe! He loves trail, and loves to go. He is rather aggressive, but completely controllable! He did two slow 50s last fall and two this spring with Brad Dillon from Australia! This horse is outstanding! Owned by Maureen Briggs of GA. duncan.briggs@comcast.net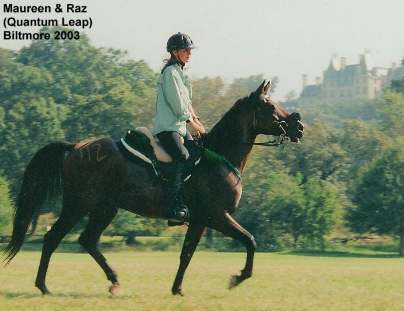 GR Encino: Coming 5 year old 15.1+h bay gelding. Encino is tall and lanky and reminds us of Sarge, Rita and Tom Swift's horse. He is not big boned, but he can fly down the trail and has the most wonderful gaits. I am impressed with the bravery and willingness of this horse. He loves people and he loves to go! He did his first 25 with a HW at High Roller Dec. 30th and did outstanding and another one in TX Feb 10th! Encino is ready to find his partner and is perfect for a LW or FW in hot, humid weather! Breeders Sweepstakes! too late! Encino has found his partner with Linda Prentice of Maine! Linda says you are welcome to e-mail her about Firedance Farms horses! ldprentice@adelphia.net Linda has sold Encino to Beth Postlewaite. Beth says you are welcome to email her as well about Firedance Farms Horses! beth.postlewaite@foxcroftacademy.org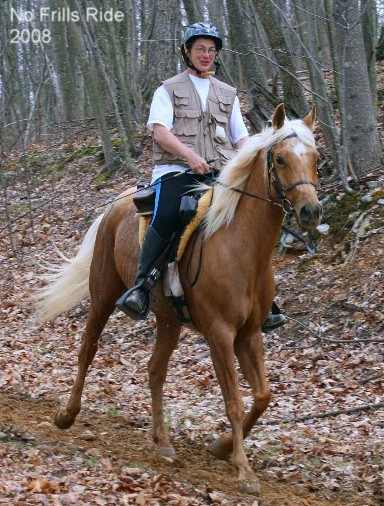 SAA Caramello: 3 year old 3/4 Arabian Palomino filly! This filly is absolutely wonderful! She is the sweetest thing ever, very willing to please, broke to ride, and gorgeous! Can be bred to Poseidon Bay for a Palomino or Buckskin pinto possibility! Too Late! SAA Caramello is also making her home in the Northeast, Maryland, to be exact! Congratulations Susan Betso, and may you have many happy trails! Watch for them on LD rides next Spring! weywoodies@aol.com
photo by Hugh MacDonald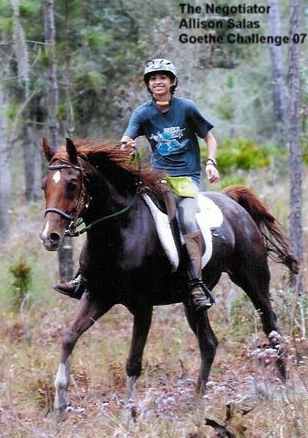 THE NEGOTIATOR: HUGE 4 year old Chestnut gelding. Very suitable for a heavyweight rider, as this horse is going to be BIG! Calm, loves trail, likes to go up front. This horse is truly outstanding! Padrons Psyche, Exceladdinn grandson.
Nitroxx: Gorgeous straight Russian 3 year old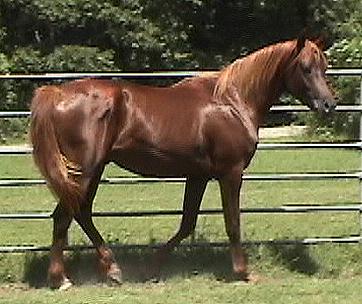 colt by Madison Avenue and out of The One Iment (Menes daughter). 14.3+ hands. Very solid boned. Beautiful head. Calm
disposition and very willing to please. See bloodstock page for more information on sire and dam.Photo at age 23 months.
Both Nitroxx and The Negotiator are now enjoying the warm weather in FLORIDA with Lisa Salas! Watch for them in competition next year! jsalas@tampabay.rr.com
Broken Promises: 11 year old 1/2 Arabian 1/2
Saddlebred gelding. 15.1+ hands. Extremely solid horse. BP has a super fast walk, can trot like the wind and absolutely loves to go out on trail! Not even a covey of quail flying up under him spooks this horse! BP is very loveable and wins the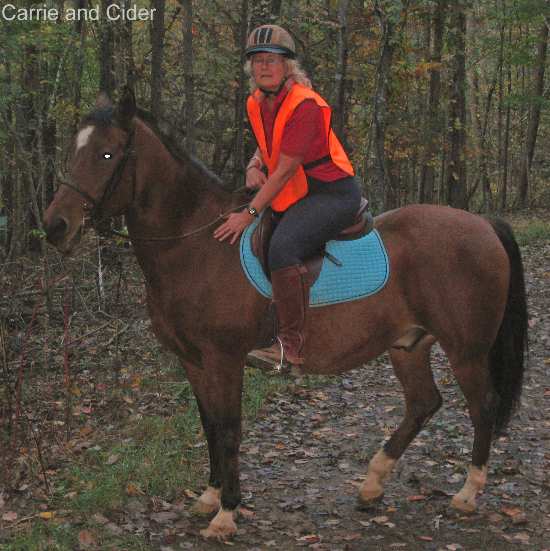 hearts of all who see him. He is a gorgeous mover. If you are looking for a best friend who is very experienced and safe and wants to see that next hill with you, he's the one! He is very smooth and everyone's favorite to ride. This is Bruce's horse (tacks in at 220). BP has done three 50s this season in great shape! Update! BP is the horse Jay Williams rode on his first endurance ride (see EN Sept issue). He is also showing great promise as a three day eventer!!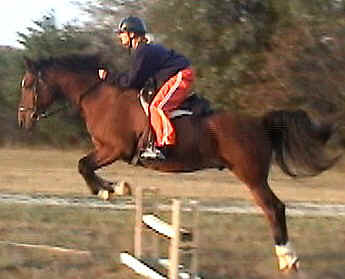 BP is now proudly owned by Carrie Douglass of VA! cbdouglass@earthlink.net
CR DENALI New kid on the block, and is he ever going to be a good one! 4 year old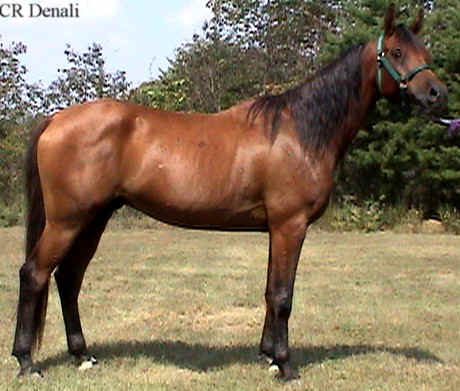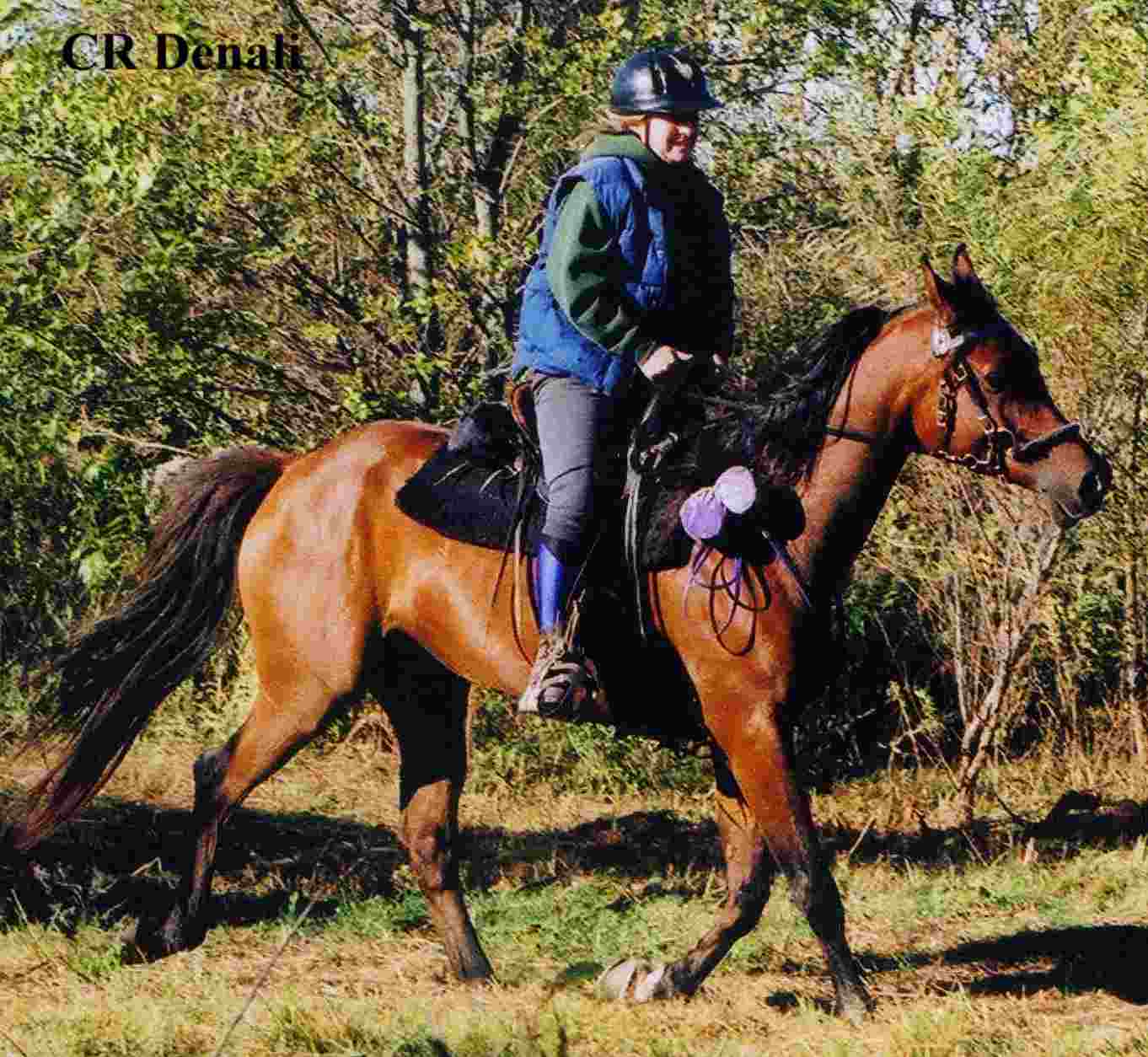 5/8 Russian bay 15.1 gelding. This guy is extremely calm and easygoing. He has a gorgeous head, wonderful big bone, and a smooth gliding trot. He loves people and really wants to please. He has done one 25 and his CRI at the finish was 11/11! This horse is going to make an outstanding 100 miler in a few years. Wow, Debbie sure knows a good one when she sees it! Denali is going to be some tough competition for those of you who do endurance and CTR in the Northeast! Denali now lives in Vermont! Deborah.Houghton@vtmednet.org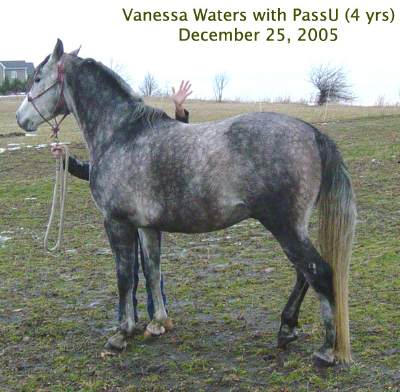 PassU 2001 straight Russian grey colt by Madison Avenue and out of MSA Magnollia. Our vet says this is the biggest Arabian colt he has ever seen! He is outstanding. PassU has been sold to Vanessa Waters, of New York kovat@juno.com , www.bentheyre.com . He has a great career as an endurance horse ahead of him!
photo at one day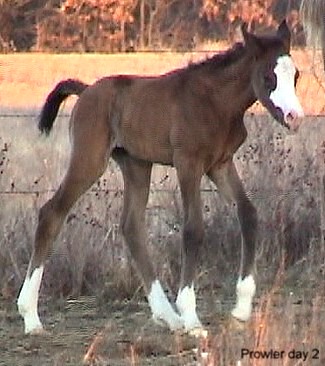 PROWLERR: 1-03-04. (Krakow x MSA Magnollia) see bloodstock. Very rare BAY straight Russian colt! This guy is a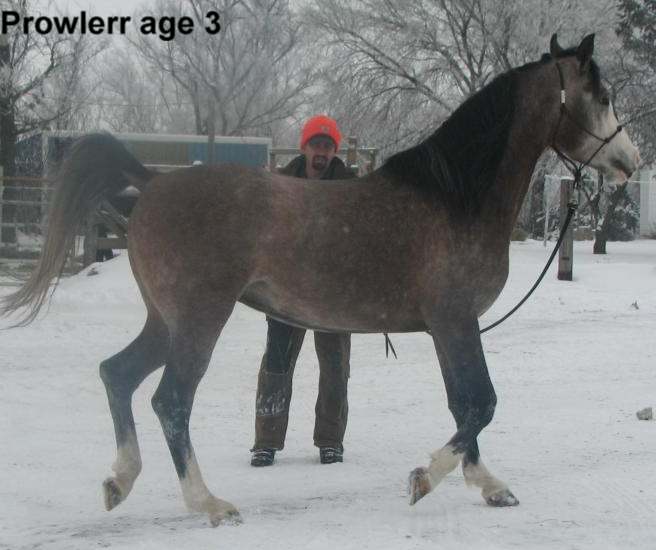 beauty! Four stockings and huge blaze and that gorgeous Russian trot. Big showy attitude already! He'll knock the socks off all the competition!
Yep, you are too late! Watch out Wisconsin! Jeanna Glass has herself a great colt! pjglass@centurytel.net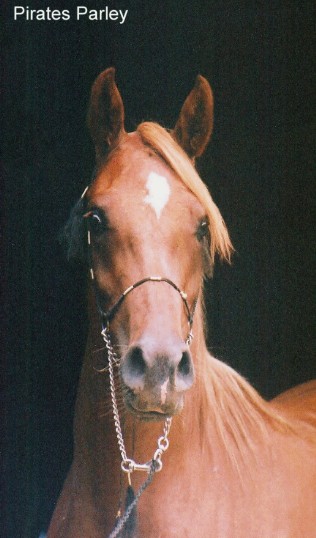 Pirates Parley: We have 8 straight Russian mares, and this is the first filly we have offered for sale. She is a beautiful big 3 yr old chestnut. Parley is a second generation Straight Russian horse of our farm. Her sire is Nixx (Madison Avenue x The One Iment) and her dam is Magtika (*Statistic x Magna W) She is Menes on both sides. Both her sire, dam, and granddam have done endurance rides (see bloodstock and references). She is over 14.3 and her dam is 15.2, so we expect her to be tall. She is also a big bodied filly with big feet and straight legs. She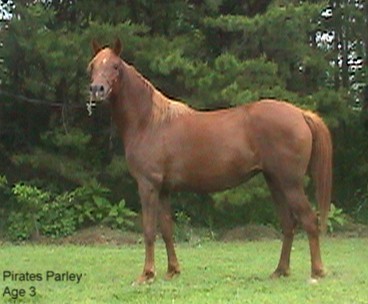 has beautiful gaits, including that Russian trot! Parley has been started under saddle and she is very willing. She loves attention. We hate to sell her, as she is so nice, but she is not treated well in the herd and not happy. We would like to find a lifelong partner who will give her the confidence and attention that she deserves. She is a very nice mare and really wants to please. This is a steal for a Straight Russian mare of this quality, but we want to find her a new loving home ASAP. $4000 Parley is going to Daniel Sudilovsky, MD, of Siberia Farm in New York! She will make a great addition to their Russian breeding program!
LS SIMPLY FANTASTIC: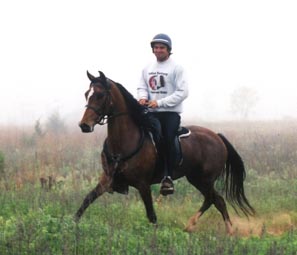 What a great cross! This six year old bay mare is half Arab and half HACKNEY HORSE, and can she trot!! She is extremely smooth and can trot like the wind! She is very willing on trail and has a great head set. Ridden by a heavweight. 15 hands. She is just starting her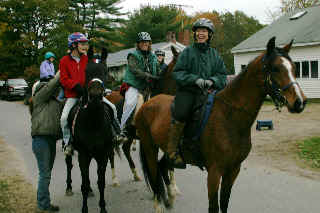 endurance career and she is going to be what her name implies...simply fantastic!
This mare is sold to Tracy Bradford of Maine! tbpots@tidewater.net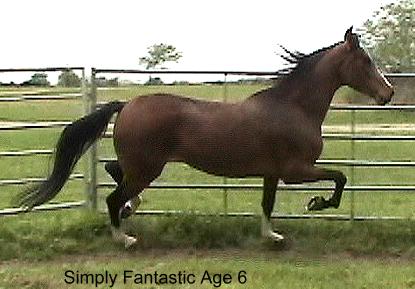 Tracy and "Fanny" on a Hunter Pace in ME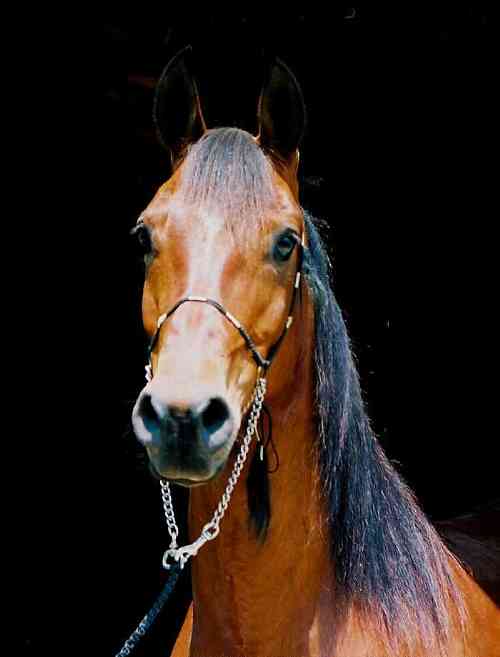 Renaighade: 15.1h 6 year old Pure Polish Aloes grandson. His third generation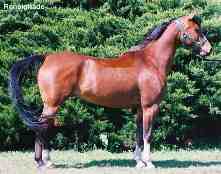 includes Celebes, Bandos, Probat, and Promotion. Renaighade can run! This is a big, stocky Arabian who can easily carry a heavyweight. Renaighade is very friendly and willing to please. Renaighade did outstanding on his first 25 last week! Breeders Sweepstakes Renaighade his found his perfect friend in Sheila Schneider of IA. Look for them on the trails next Spring! Feel free to contact Sheila about Renaighade! distancerider@netins.net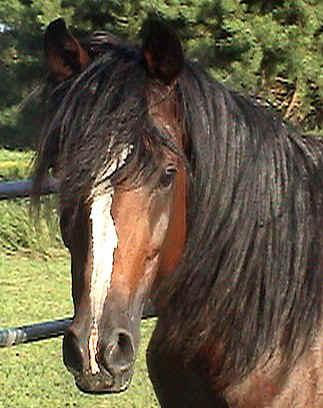 Mirror Tu Wiking: 7 year old bay Pure Polish 15.1/2h gelding. This horse has an excellent Polish pedigree (Wiking, *Krezus grandson) and is the athlete he is bred to be! Mirror is a beautiful horse that is very fun to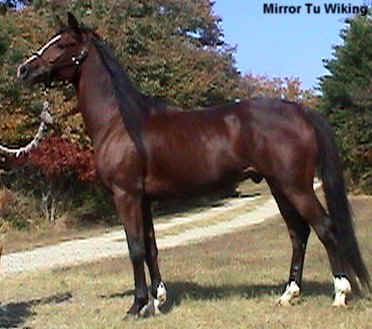 ride. He is energetic but not a spooker and loves to go down the trail! He loves attention and is very well mannered. I feel very confident riding this horse alone. Mirror has done two 50s in outstanding shape and is ready to do more! Wow! Thank you all for your interest! Liz Masters from CA was the lucky one to grab him first!! Liz says to feel free to e-mail her about Firedance Farms horses! aercrider1@hotmail.com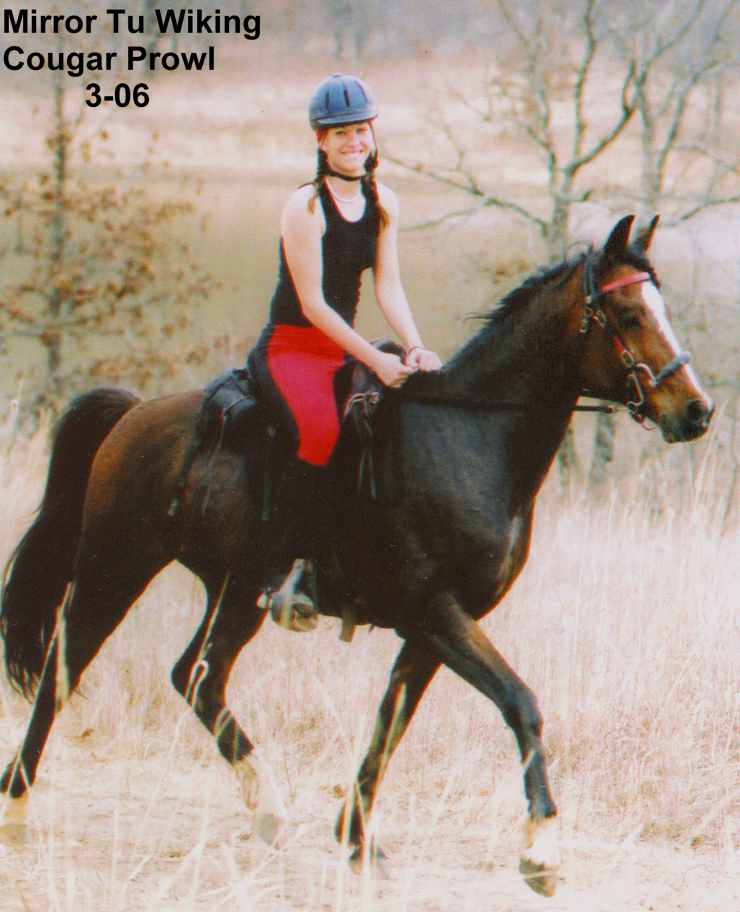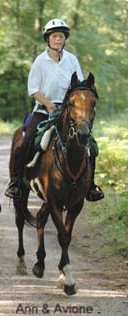 Avione: Six year old 15h gorgeous bay gelding. Approximately 3/4 Polish and 1/4 Domestic. Avione has completed some very tough 55 mile mountain rides, including 110 miles at Ft. Stanton (I rode another horse the first day). He loves people and has outstanding conformation. He is a wonderful brave horse (Amber rode him with a slicker on his first 50) and very willing to please. This young horse is tough and ready for a long career! Breeders Sweepstakes. Update! Avione is now qualified for the AHA National Championship next year and he is Breeders Sweepstakes! Too late! Watch out MW region! Avione is now proudly owned by Ann Cummings of WI! windspinnr@centurytel.net
Heaven's Heritage: 15.1 1/2+ h grey 4 year old gelding. This horse is not only tall, he is big, and very pretty. "Steel" is being conditioned for limited distance. He prefers to be around people than other horses and he is very easy to ride. He is brave and very willing to please. Well, you all in CA are going to have some real competition coming up!! Steel is going to Sandy Maas in Novato CA! zueslucy@yahoo.com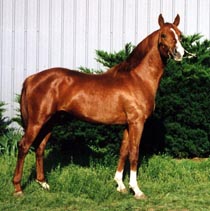 WH SIMON PHOENIX Big 3 year old straight Russian chestnut gelding. suitable for a future heavyweight rider. Outstanding conformation and movement. This horse is going to be outstanding! *Patent, his sire, is the sire of RD Five Star. His dam is a Nut daughter and the dam of KUVICH. Green broke. Phoenix is proudly owned by Liz Henry and David Putnam in France! Feel free to e-mail them regarding buying horses from Firedance Farms long distance! Contact lizard@neworld.net
Congratulations, David and Phoenix for finishing the FLORAC IN FRANCE AND THE TEVIS ON PHOENIX!!
Varykino: 5 year old 3/4 Russian Grey Gelding. Outstanding Pedigree: *Othelloo son out of a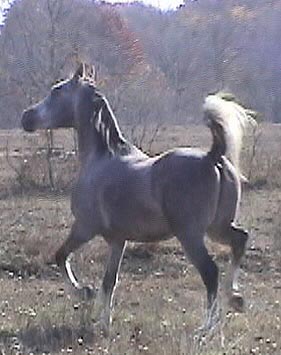 *Mandat daughter out of a *Gdansk daughter out of a *Fortel daughter. Kino is a great horse. He has done two slow 25s with a heavyweight and tied for best vet score on his first 50! He loves to go in front or by himself and has wonderful gaits. He is calm and loves to please and is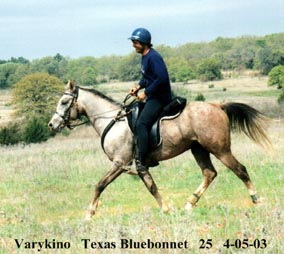 looking for that special owner to bond with. He actually gets depressed if you don't take him out! 14.3. Here is your horse that is Sound, Safe, Smooth, Sensible, and Short...but no "S" for Spook! He excells on mountainous or wooded trails.
Lucky guy! Kino is now found his perfect match in Dottie Gould of Inverness Florida! Look for Dottie and Kino on rides this spring! She will be glad to tell you about the Firedance Farms Horses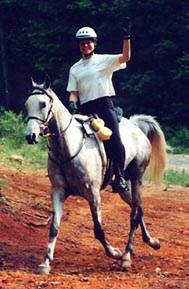 Meescha 15.3(really) grey 7 year old Russian bred gelding. *MAG son out of a *MUSCAT daughter. Great legs, outstanding movement. Loves, people, very gentle, but very competitive on trail. Put him in that Russian trot and watch the miles fly by! Won $6300 on the track as a four year old. Currently doing 50s and 100s with 210 lb. FLASH!! Just finished the TEVIS completely sound carrying 230 lbs and he came from the 8th furtherest away! And not only that, but top tenned in a ride three weeks afterward, obtaining the highest vet score on Soundness and Quality of Movement! This horse is GREAT and ready for a serious competitor!
This horse is now proudly owned by Susan Swope-Attardi from KY(photo). Please feel free to e-mail her regarding purchasing Firedance Farms horses Nagzarus@aol.com
Congratulations Susan on your first 100!!!
Abdul Aristu: 15.1h 11 year old chestnut gelding. 3/4 Egyptian, 1/4 Polish. His tail female is a full sister to Aswan! Abdul is an excellent horse. He has done two 25 mile rides and one 50 mile ri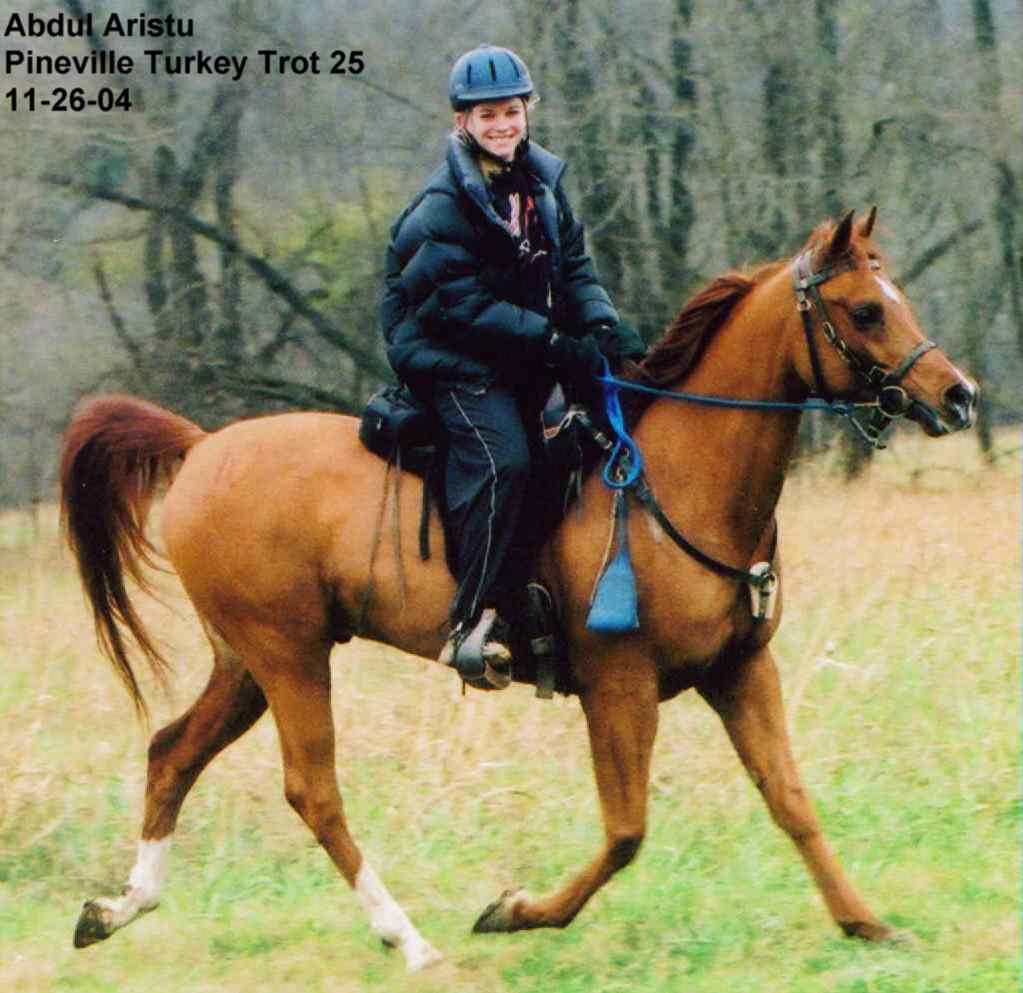 de this year in superb shape. He is a definite candidate for a 100 mile horse and multidays this summer.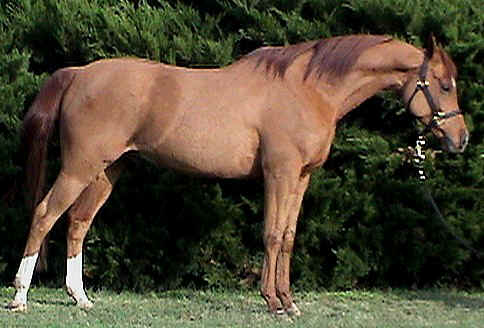 Abdul has been running up in hilly CO pastures most of his life and he is a cat in the woods! He is tough, willing and brave, and has a wonderful extended walk! This horse is REALLY a nice horse! He is very sensitive to your wants and just loves for you to be his best friend! If you want a horse that will really bond with you and go the distance, he is for you! He has an international passport. For our toughest ride in the region, he is my choice! $5000. "Rusty" has great things in store for him! Betty Baker of PA now owns him! Watch out NE region! bettysteve@msn.com
CR ANDRE: Here's you chance to own a *MAG SON!! Andre is a 15.0h 5 year old 3/4 Russian gelding out of CR Kiev's dam. He is an extremely sweet horse and just loves to be in your pocket. He can practically put on the halter himself! He is more slightly buildt than Kanelli but also has that wonderful Russian
conformation! He has done one 25 and is in training for a slow 50. Breeders Sweepstakes. This horse will be a good 100 mile horse. Andre now lives in Washington! kstandefer@apbb.net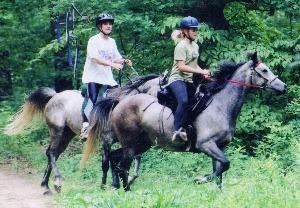 Jesse Burton on Andre
Amber Burton on Kanelli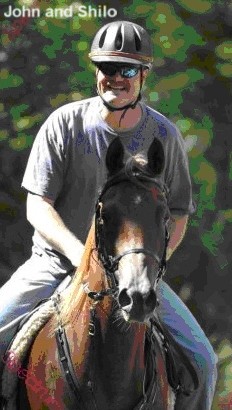 Shilo ASA: 5 year old Egyptian gelding. This horse is very big..wears a size 2 shoe and is 15.1+ and growing. He is a liver chestnut with a beautiful flazen mane. We bought this horse because his conformation is so outstanding and he absolutely loves to be handled. Shilo is a very sensitive horse and once he bonds to you he will do anything for you. He has done one very difficult 25 in June. This horse has incredible potential and will be outstanding for the right person. Shilo is now owned by John and Laurie Baker of MA cobbleystone@verizon.net
MSA BELLE STAR Straight Russian 14.2h 5 year old chestnut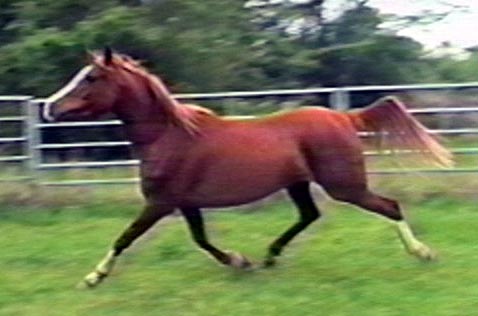 mare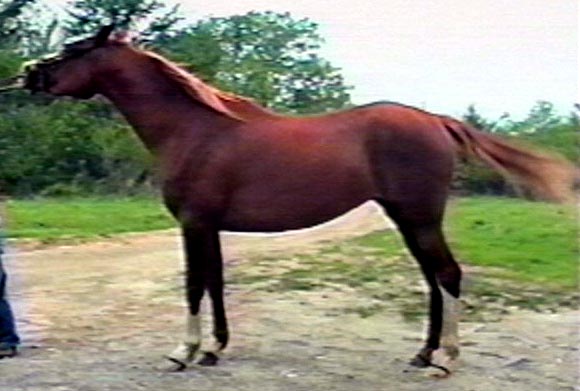 with flaxen mane. This is a very solid mare with an outstanding walk and smooth gaits. Loves people. White body spot and lots of chrome. *Monokl daughter out of an *SR Nadom daughter. Excellent Russian pedigree! And great conformation with a willing to please attitude! This is an excellent 100 mile candidate. SORRY SHE IS SOLD. She happily resides with Nancy Gates of Texas. shiningstarfarm@mail.ev1.net
Causin A Commotion: 15+h 9 year old grey 1/2 Arabian 1/2 Saddlebred mare. She is by Bask Rhapsody, a *Bask daughter out of a *Silver Drift daughter! This mare is the best of both breeds! She can trot like the wind, but she is calm and very tractable on trail! She has been trained extensively hunter, but flying down the trail is what she loves to do! She is very people oriented; you don't find a mare very often with as much personality as this horse! She is very kind and very well broke! She did a 25 in March and three slow 50s in April, May and June. This horse is a great deal at this price! Not a spooker, loves to go, trots like the wind, smooth, experienced and beautiful...what more could you ask for? She will be at the Raton ride in NM the end of July. UPDATE!! Amber and Cauzee won the IAHA Region 8 Champion 1/2 Arab and Best Condition at Colfax Coal Rush (Raton)!! And you are too late! Christel Kormanik of CT has already snatched her up! Christelmortgage@aol.com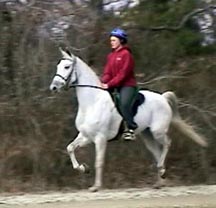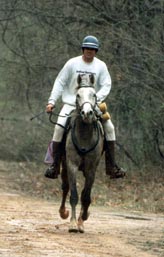 GHENT BBF 5 year old pure Polish gelding by *ERAN, a PARTNER son, out of GILDA, an AL BANAT daughter. Very solid 15+h. Excellent legs, great feet. Very pretty horse, with a great trot! Great back, excellent legs, never nicks himself. Extremely good base (headset, rounding) Loves people.
Gillian Gourlay has already snatched up this one! e-mail her at fraser.gourlay@cwix.com about Firedance Farms horses!
(Photo of Ghent and Bruce Burton(tacks in at 215)
Summerffire 3 year old chestnut filly, four stockings/blaze. Both sire & dam were endurance horses. She is by SAVOY DSA, a 15.2h straight Russian who did over 1000 miles before his untimely death, and out of FARAH LENA+, a Polish/Crabbet mare who has done over 2000 miles and has her Legion of Honor in endurance riding, where she has won many awards, including high point Arabian in 1997. SUMMERFFIRE is very showy. She is energetic and competitive with a real "look at me" attitude. She has had a lot of ground work and been ridden by a ten year old.
Summerffire is now owned by Dr. David Parker, parkerok@pldi.net.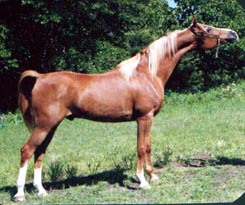 WESTWIN SIERA MCD 9 year old gorgeous chestnut gelding with an almost white mane!15.1 h slight build. Excellent legs, smooth gaits. "Broke to death". Professionally trained WP and halter, but loves to go on trails. Very gentle and responsive. No shies, likes to be out front, and happy riding by himself! Conditioning and ready to do slow 50s. Sweepstakes Nominated.
Westwin is proudly owned by Lisa Parker parkerok@pldi.net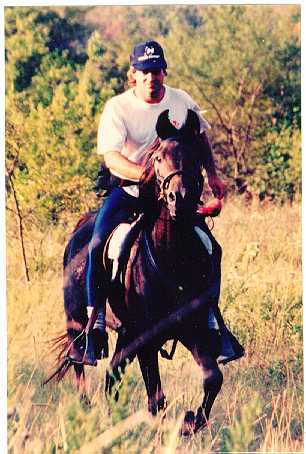 MS BERET: 9 year old Pure Polish gelding. 900 AERC miles. Ridden by a ten year old, but he is a lot of horse! Purchased by Deb Leader from Ohio fearless@bright.net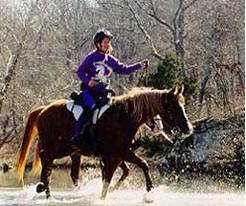 TF SUMMER SONG 5 year old chestnut double *MUSCAT mare. Short backed, big rear end. Small 14.3. Absolutely perfect four legs. Currently doing slow 50s. She is outstanding on trail. Completely trustworthy; no shies, bucks, or bolts here! Very surefooted, never a lame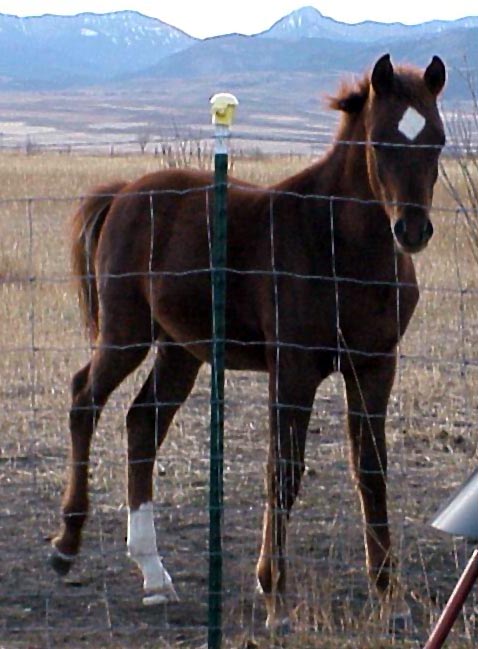 step. Rides in a sidepull. Sweepstakes Nominated. Now in foal to FA AL BADI+/!
"Pepper" is very happy in her new home in Montana! Please feel free to contact Jerri Larsen regarding Firedance Farms horses! jerril@wispwest.net
She had a great colt by Fa Al Badi+/!!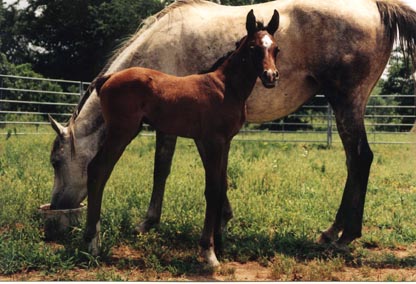 MAGNANIMITY Grey straight Russian filly by Menemuscavoy out of MSA Magnollia. This filly is outstanding...and she is the most people oriented foal we have ever seen! Loves to sleep with the kids in the field! Photo at 1week. Magnanimity is already sold! Her proud owner is Camilla Lambert from Newton-Grove NC! LamboWife@aol.com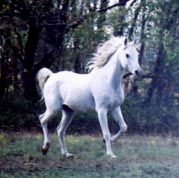 Fair-Silver:
We bought this horse as an endurance prospect thinking he was 12 years old. Were we ever surprised to find out he was 18! This horse is WONDERFUL. Extremely well trained, and very loving. We would like to find a great home for him, perhaps one with young children, as he loves kids. You would never believe he was his age.Perfect health. Absolutely loves trail riding. Not a spooky horse. Has done cows and dressage as well.
Sold to Rick Ratliff rick@ussecurity.com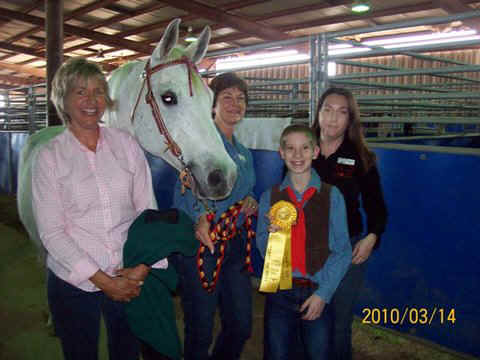 SCS Silverado: "Kashan" was the first Firedance Farms endurance horse we sold and he is proudly owned by Mary Beth Read of Texas. He currently is a showhorse for therapy and recently (2010) two silvers and a bronze medal at the Special Olympics! Feel free to contact Mary Beth about Kashan! readjoe@aol.com